Sessions to help you facilitate healing and expanded consciousness.
Understand your constitution to balance your system.
Tailored Ayurvedic massages to your body type and needs.
Individual program to rejuvenate your body and being.
Ayurveda & Clarity Breathwork
therapist in Ibiza
Welcome! I'm Elke, an Ayurveda practitioner, certified Clarity Breathwork practitioner and healer on the beautiful island of Ibiza in Spain.
Ibiza is known for its high vibration, making it the perfect place to retreat from the world for your healing and transformation.
I'm privileged to be able to support people on their healing journey. To be present, hold them energetically and create a safe space to sink deeply into their process. Most people experience profound shifts and leave feeling nourished and motivated.
You can work with me one-on-one, either online or in person or at retreats and workshops.
Ayurveda, the ancient science of life originating in India, is a holistic healing system that emphasizes balance between the three bioenergies (Doshas) and the harmony of mind, body, and soul, offering personalized treatments to restore health and enhance overall well-being


Guided breathwork enables deep, intentional breathing, unlocking subconscious release and expanding awareness. Through this transformative practice, we tap into untapped potential, release negativity, and connect with our authentic selves. Experience the power of breathwork for self-discovery and growth.

Step into a sanctuary of tranquility and experience the transformative power of bespoke Ayurveda massages, where every stroke is guided by your individual constitution and aspirations for wellness.
Panchakarma, a transformative practice spanning a minimum of 10 days, is designed to bring about profound purification, rejuvenation, and holistic healing. This ancient Ayurvedic therapy is a comprehensive and systematic approach that targets the cells, tissues, and organs of the body, as well as the mind and spirit.

Kind words from my clients.
The first time I met Elke, she was running a clarity breathing workshop. I felt her loving presence and connection immediately. Her massage techniques are very involved and deep. Subsequently I had shamanic treatment from Elke when I was going through a difficult process of life, and the healing she channelled was such pure grace. I recommend Elke if you either need an amazing massage or assistance in clearing deep blockages.
Elke has changed my life. My Panchakarma with Elke left me feeling like brand new. It removed so much programming within me, which was holding me back from living a more fulfilled life.
The Panchakarma with Elke was a transformative experience. I would recommend it to anyone who wants to heal or just have a rest and a spring clean. I found the process was cleansing both physically and emotionally. The massages I received were gentle and relaxing, yet I felt them working deep into my body. After the last treatment I felt liberated and calm, the Shirodhara treatment, where oil was poured on my forehead was the most relaxing treatment I have had. I felt at one with myself and the universe.
Bespoke private session(s) organised just for you and adapted to your needs.
Elke will take part in your retreat and adapt her sessions session for your needs.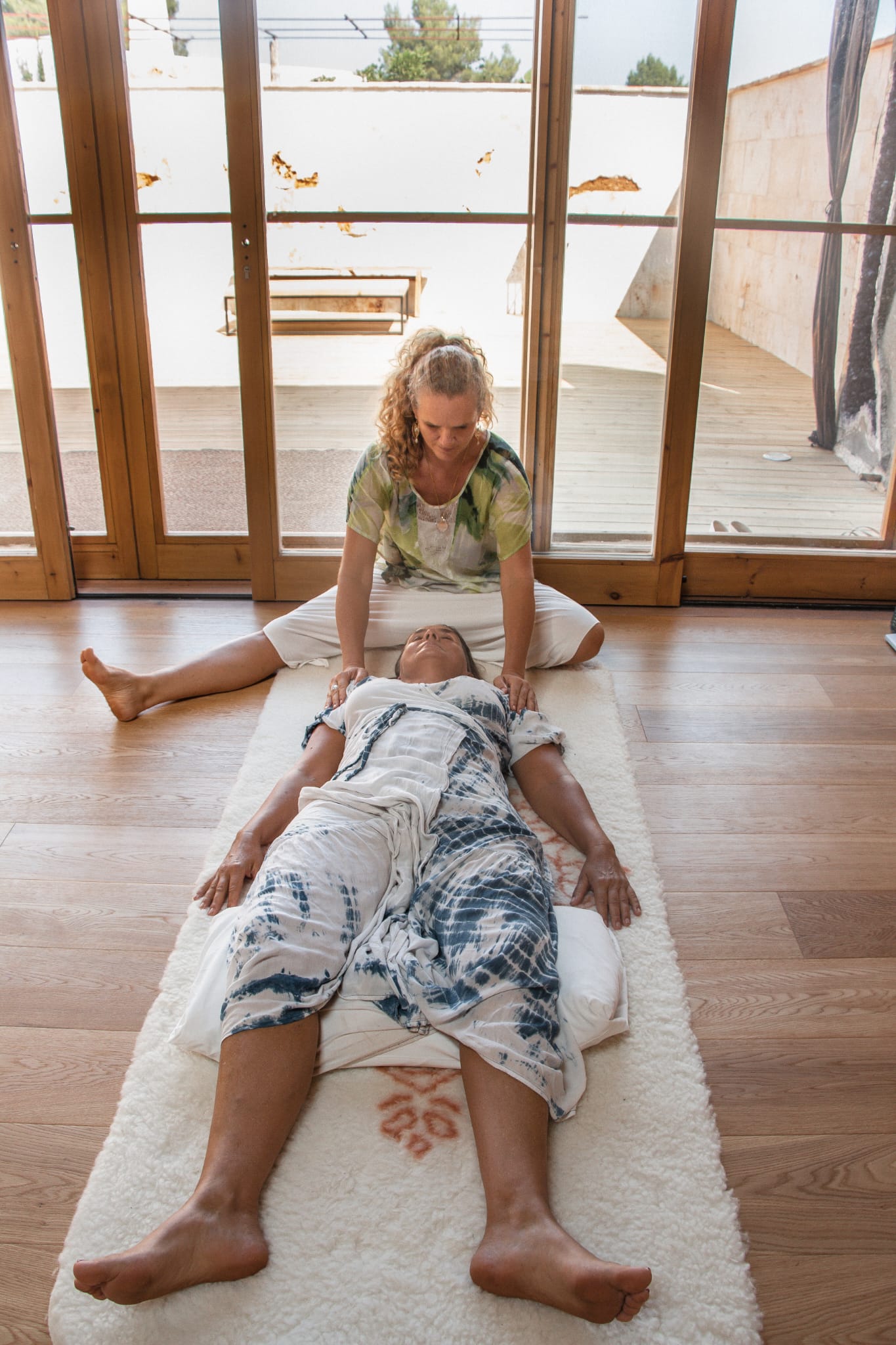 If you are not in Ibiza, Elke can organise an online breathwork session or Ayurvedic consultation for you.
Elke will come in-person and co-facilitates a Breathwork& Ayurvedic workshop for a group.
There are no retreats on at the moment.
Please drop us a note to let us know you are interested and we will get back to you as soon as dates are released.
Feel free to book your session here for your treatment. It would be a privilege to be a part of your healing journey.

I am available for:
You can also contact me directly here:
Email: elkyscior@gmail.com